----HOME----PROPERTIES----BUYING REAL ESTATE----LIVING IN PANAMA----FACTS ABOUT PANAMA----PANAMA OR COSTA RICA?----
---THINGS TO DO AROUND TONOSÍ---MAP---PHOTOS---PREVIOUS MAILINGS---MORE ABOUT PANAMA---ABOUT US---CONTACT US---
CONTACT US AT wanconm@gmail.com, gdianaraquel@gmail.com or U.S. 760 516 1460, U.S. 760 704 7592 WhatsApp Panama 507 6673 3375, 507 6949 5824
...ESCAPE TO PANAMÁ...
Bienvenidos (Welcome!) to Escapetopanama.com! The ORIGINAL EscapeToPanama. Since 2001!
If you are looking for land, a lot or a home in the Playa Venao to Cambutal area, this IS the site for you!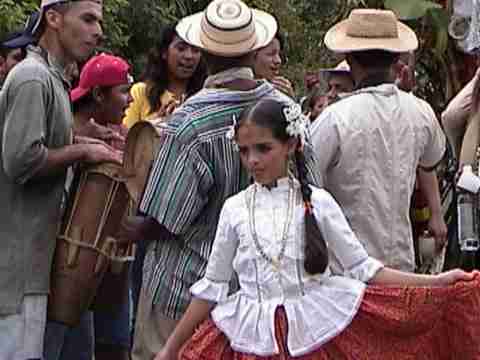 This site contains general information about buying real estate, traveling and living in Panama, but it is mainly focused on the Azuero Peninsula, especially the province of Los Santos <see Maps>. All the properties and things to do are in the Cambutal/Bucaro/Tonosí/Playa Madroño/Playa Venao area not far from Pedasí. We have one project on the beach below Cerro Madroño just 2 km west of Playa Venao, which includes from Playa Madroño to Playa Raya. It is over looking Cañas and Cañas Island. We have another project between Cambutal and Playa Venado just past the quaint fishing village of Bucaro and including Playa Ostional. The people of escapetopanama.com live here, not elsewhere. We hope you will enjoy and be well served by this site.
The Lonely Planet guidebook says "If you have ever said to yourself while traveling, 'I wish I had come here back when…', then come to Panama now before it is discovered because it soon will be." MM magazine (with more than 20 million readers) named Panama "The Number One retirement destination in the western hemisphere..." and International Living says its the best in the world. Interested? This web site offers information about buying real estate in Panama, properties for sale in the Playa Venao to Cambutal area, travel, interesting facts about Panama, maps, a comparison of yesterday's destination, Costa Rica, with today's destination, Panama, and links to other information on Panama. Scroll down this page to get a brief synopsis of each.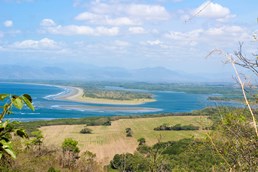 PROPERTIES: We have beach lots, beach homes and large beach parcels and much more, and all for great prices. Beach view lots can cost as little as $54,000 for 1.6 acres with an ocean view. You can build a quality 2250 (200m2) square foot beach home for less than $200,000 which together with the lot can bring you to about $250,000. If you are looking for a property to develop, we have small, medium and large parcels that fit the bill starting from $280,000 right on the beach. We offer a number of ways to make buying easier: 1) We offer virtual tours, for those who want to see more, but cannot make the trip to Panama at this time. It's a multi-person video call in which you can direct the onsite person to whatever it is you want to see and ask the owner real-time any questions you may have. 2) We offer owner financing, 10% down and 6% interest. 3) Perhaps you see something you think you would like to purchase, but you want to see it in person first, just to be sure. We understand. We offer a "reserve this property for me" option. We make a purchase contract, you deposit 10% down, we hold the property for you for 4 months giving you a chance to see the property and purchase it. If you decide to buy a different property, we apply your deposit to that property. If you decide not to purchase, then we refund 80% or more of the deposit. 4) We offer turn-key lot plus home contracts. 5) We offer a 25% discount for land in Punta Azuero, Bucaro or Playa Ostional purchased, reserved or contracted before February 1, 2022. 6) We offer referral commissions that only require name and basic information such as email. They pay 4% of sales price. You can recommend a friend or acquaintance and if they buy, you can keep it or give it to them. Call or email us for more details. <PROPERTIES>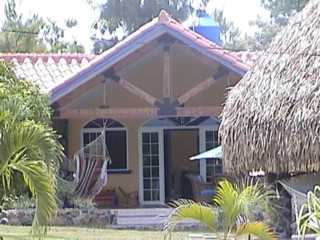 BUYING REAL ESTATE: Buying real estate in Panamá is safe. Your rights as a foreigner are the same as a citizen. Whether you are looking for a home, a lot on which to build, a vacation property, development property or a real estate investment, this section will give you the information you need to do it safely and wisely.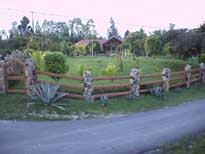 LIVING IN PANAMA: Living in Panama can be a much better option than the U.S., Europe or Canada. Your money goes much further. The climate is great. You can afford to live like a king or queen, with place on the beach, a maid, a boat in the water and a lot of free time to relax and enjoy life.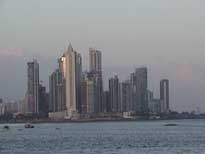 FACTS ABOUT PANAMA: Here's a collection of valuable and interesting facts about Panama including links to maps, weather and time information. Get a better idea of what Panama is all about, get the facts. From population, government, religion, seasons, time zone, economy, holidays, electricity, currency, airport, business hours, life expectancy and more.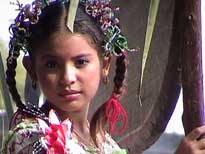 PANAMA OR COSTA RICA?: Costa Rica, Panama's well known cousin to the west (not north as many think, see map below), is the place most people think of when they think of vacationing, living or investing in Central America. I lived in Costa Rica seven years and it has it's good points but it can't even begin to compare to Panama. I've lived in Panama for twenty years now, and you couldn't get me to move back to Costa Rica, no how, no way! What people are looking for in Costa Rica, they find in Panama. <PANAMA OR COSTA RICA?>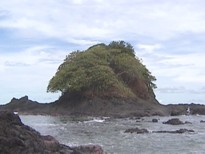 THINGS TO DO AROUND TONOSI: Here we tell you about where to go and things to do around the Tonosi area including exploring the estuaries and beaches, seeing the sea turtles lay their eggs, diving and snorkeling, fishing, horseback riding, surfing, carnivals and festivals and custom tours.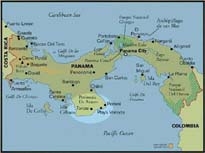 MAPS: Get oriented and see where we are located. <MAPS>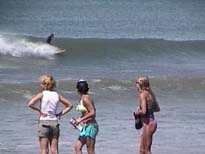 PHOTO GALLERY: Photographs from all over Panama but mostly from around the areas of Playa Madroño and Bucaro/Playa Ostional.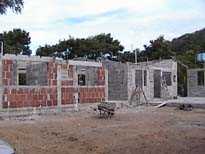 PREVIOUS E-MAILINGS: I send out an e-mail to people who have signed up on my mailing list with current photos from paradise, the building progress on my home, news and notes, updates and referrals to other websites. Here you can see previous e-mailings. <PREVIOUS E-MAILINGS>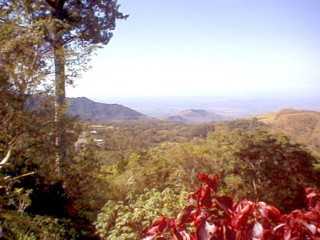 MORE ABOUT PANAMA: For more websites and recommended reading about Panama....
----HOME----BUYING REAL ESTATE----PROPERTIES----LIVING IN PANAMA----FACTS ABOUT PANAMA----PANAMA OR COSTA RICA?----
---THINGS TO DO AROUND TONOSÍ---MAPS---PHOTO GALLERY---PREVIOUS MAILINGS---MORE ABOUT PANAMA---ABOUT US---
CONTACT US AT wanconm@gmail.com, gdianaraquel@gmail.com or U.S. 760 516 1460, U.S. 760 704 7592 WhatsApp Panama 507 6673 3375, 507 6949 5824
------