ESCAPE TO PANAMÁ
----HOME----BUYING REAL ESTATE----PROPERTIES----LIVING IN PANAMA----FACTS ABOUT PANAMA----PANAMA OR COSTA RICA?----
---THINGS TO DO AROUND TONOSÍ---MAP---PHOTOS---PREVIOUS MAILINGS---MORE ABOUT PANAMA---ABOUT US---CONTACT US---
CONTACT US AT wanconm@gmail.com, gdianaraquel@gmail.com or U.S. 760 516 1460, U.S. 760 704 7592 WhatsApp Panama 507 6673 3375, 507 6949 5824
Hi
You received this email because you are on the Escape to Panama mailing list. I will send an email every month or so with some photos (size reduced for quick download) and news of interest to give you a glimpse into this part of the world. I hope you enjoy them.
Hasta Luego,
Scott Miller
If you do not want to be on this mailing list, just reply to this email with a note to remove your name.
This is the first time I have mailed out this mailing list so please let me know if there is anything I should correct.
The attached photo was taken in February. The water is about 82 degrees and air temp varies from a low of about 70 to a high of about 90. This particular beach offers very good surfing. Just around the point, the snorkeling is quite good. It is usually one or the other. When the surfing is good, the snorkeling probably isn't, and when the snorkeling is good, the surfing probably isn't so I often come prepared to do either. I have seen the largest parrot fish I've ever seen snorkeling there.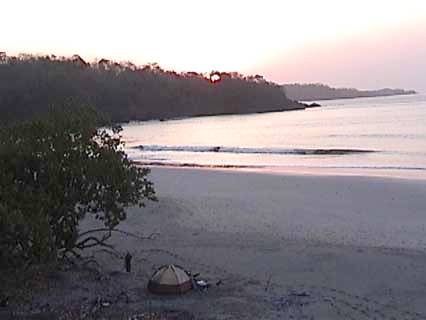 ---
----HOME----BUYING REAL ESTATE----PROPERTIES----LIVING IN PANAMA----FACTS ABOUT PANAMA----PANAMA OR COSTA RICA?----
---THINGS TO DO AROUND TONOSÍ---MAP---PHOTOS---PREVIOUS MAILINGS---MORE ABOUT PANAMA---ABOUT US---CONTACT US---
CONTACT US AT wanconm@gmail.com, gdianaraquel@gmail.com or U.S. 760 516 1460, U.S. 760 704 7592 WhatsApp Panama 507 6673 3375, 507 6949 5824
------